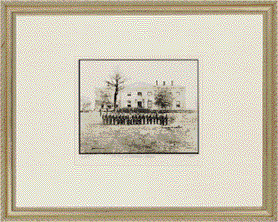 This incredible black and white retouched print taken from the only known photograph discovered in October, 1997, is just as it would have been when taken in 1877. It has been digitally reconditioned and packaged in a brochure that tells the story of Dahlonega from the "Gold Rush of 1829" to the present-day renovation of the building on the original foundation of this great historic site.





This print is in an antique silver wood frame with museum quality matting. Frame size 12 x 15.






The original photograph was taken circa 1877-78, shortly before the Mint was destroyed by fire on December 20, 1878. Photographed from a distance, the Mint serves as a backdrop for two rows of military cadets outfitted in uniforms and rifles. The structure was used to mint gold coins from 1838-1861. In April, 1861 the mint was seized by the Confederacy and used as an assay office during the Civil War. In 1873 the Mint was given to North Georgia Agricultural College as its first classroom. The original photograph was found in October, 1997, in a file marked "Old Pictures" in the President's office of the North Georgia College & State University. Hancock & Harwell has been privileged to work with the college to bring this limited edition print to the alumni, students, residents of North Georgia, Dahlonega historians, and collectors.
*Profits from the sale of the print will benefit the North Georgia College & State University Foundation and may be deductible.